Optimising our water usage and wastewater treatment
The production of beverages is a water-intensive industry. Olvi Group seeks to reduce its water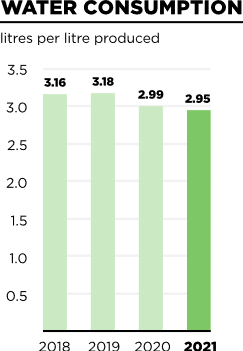 consumption per litre produced. In 2021, our water consumption decreased by 1.3% from 2020. Depending on the location, we use local groundwater or our own wells as water sources.
We optimise our water consumption by paying attention to washing, planning of it, detergents and technical equipment solutions. We will increase water recycling in the future.
Wastewater is generated during the various phases of the production process, particularly in connection with washing the production facilities and equipment to ensure a high level of quality and hygiene in production processes. In cooperation with municipal wastewater plants, we have improved the efficiency of pre-treatment to improve water quality. We have also improved chemical management in the production process by minimizing losses and optimizing detergent consumption, among others.