Occupational health and well-being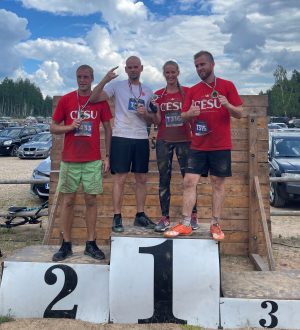 One of our main goals is to ensure employees' working capacity, health and well-being throughout their careers. We are continuously developing our ways of working and our work environment to promote smooth and productive work and eliminate health risks and hazards.
We plan the work, the machinery and equipment used, as well as the work environment and circumstances, so that they do not cause physical or mental health risks or hazards to our employees.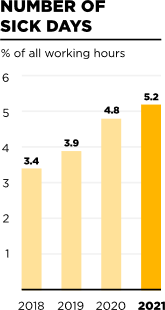 We measure occupational health and working capacity by monitoring sickness absences. Our goal is to reduce sickness absences year-on-year. In 2021, sickness absences represented 5.2% of all working hours across the Group (4.8% in 2020). The number of  sickness absences increased as a result of the impacts of the pandemic, because the possibility of a coronavirus infection needed to be eliminated in all cases with symptoms related to respiratory tract infections. However, the  sickness absence rate is still at a good level compared with the av erage for the Finnish food  industry (6.1%), for example.
We take care of our employees' well-being at work to ensure their physical, emotional and social  welfare. The Olvi Group companies promote well-being at work through various measures, events, occasions and lectures. We also support exercise and recreation in our employees' free time.