Promoting the circular economy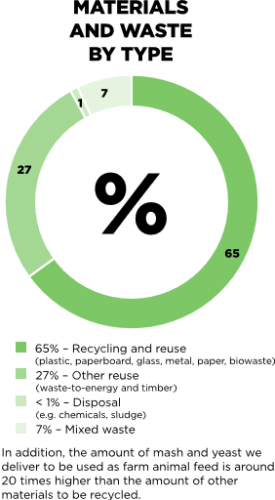 Key themes of the circular economy include reusing waste material and recycling material fraction streams. Through reuse, completely new applications can be found for waste material. Materials  recycling includes sorting and recycling materials from production, reusing packaging materials,
reusing by-products and recycling end products. It is also important to use materials as resource-efficiently as possible.
Ensuring the recyclability and eco-friendliness of materials is an essential part of product development. In packaging materials, we aim to reduce our use of plastic in particular, as well as finding alternative and recyclable materials.
We monitor the volumes of the material fractions generated. In 2021, the amount of mixed waste continued to increase because of new companies. However, the relative volume per litre produced continued to decline.
The Group companies' by-products include spent grain and excess yeast, which we deliver to be used as farm animal feed. All our products are packaged in recyclable containers – some of them are washed and refilled, some are recovered as material.