Safe work environment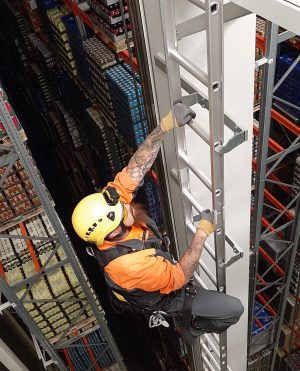 We want to ensure a workplace without accidents and a smooth workflow. We are continuously working to detect and eliminate risk factors. Sufficient orientation, regular safety training and up-to-date guidelines lay the foundation for a safe work environment. The Group shares a common working safety policy.
Every employee at Olvi Group plays a significant role in ensuring a safe work environment. We encourage our employees to actively report safety observations. Olvi Group's companies monitor, report and investigate near misses and accidents.
We measure the safety of the working environment based on the total number of accidents and absences caused by accidents. A total of 28 accidents occurred at
Olvi Group in 2021, which was 8 accidents more than in 2021. The increase in the number of accidents is explained by the inclusion of the Vestfyen brewery in the 2021 figures and the fact that more attention was paid to safety culture and reporting incidents.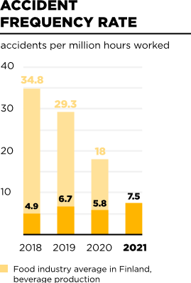 The Group's accident frequency rate was 7.5 in 2021 (5.8). Despite the increase, the rate continues to be at a good level. The accident frequency level is considerably lower than the average for the Finnish food industry, which was 18.0 in 2020, for example.
The increase in the number of  accidents is largely due to the fact that attention has been paid to the issue, and that internal communication has been increased. Systems development  has aided the identification of accidents and lowered the threshold for reporting them. We can also identify many successful development measures. To further develop safety management and the reporting of accidents, we will prepare common guidelines for safety culture development and for identifying occupational accidents during 2022.